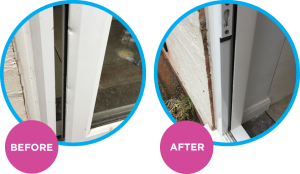 The first thing people notice while entering your house is the door. It creates the first impression of the house. But as time goes by, your doors develop some problems that affect their appearance and your safety. 
If you are facing door problems and looking for door repairs Eastbourne, we are here to provide our services to make your doors return to their former glory.  
Common Damages Your Doors Probably Have
Home, office, or any commercial space, everywhere, doors are the most used part of a building, yet they are most neglected. Hence, doors develop some common problems. These problems should be taken care of before it's too late. 
Here are some common problems we can help you fix: 
Cracks on the Door
Have you seen some cracks appearing on your wooden door? These cracks occur when the wood expands and contracts because of humidity and temperature fluctuation. 
When cracks are ignored, they get enough time to increase. These cracks develop into splits that grow into huge crevices. As a result, your door will weaken, and the wood panels break off. So, it is crucial to repair the crack as soon as possible. 
We are experts with all the required knowledge and tools to repair cracks on doors. We can restore the wooden doors to their original state. 
Scratch Marks
Scratch marks on doors are a common problem. No matter what the doors are made of, they will get scratches after years of use. Unfortunately, new doors can also get scratched. 
Your door may get scratches for various reasons. It can occur after years of use, handling without care, or you may have very active pets and children. The reasons are endless. One of the traditional methods is polishing with sandpapers and applying protective coats. 
However, the solutions are different based on your door material. They can be made of wood, metal, or vinyl. We are apt at cleaning scratch marks from any type of door. You will find your doors scratch-free and polished. 
Wear on Commercial Door
In commercial buildings, doors are usually made of powder-coated metal and panels. They are more durable and stronger than typical household doors. With this idea, people use these doors roughly. The everyday rough and inconsiderate use causes the powder coating to peel off and expose the metal surface. 
Just coating or painting the door may not fix the problem. Our expert examines the damages, and comes up with solutions. We choose matching colours and coating to make the doors look new again. 
Why Us? 
The doors of your property should be taken care of with caution. Only experts can give you the guarantee of great service. We have 18 years of experience in repairing different types of doors in sectors such as domestic, hotel, motel, industrial buildings, and many others. 
Our workers are well-trained, and we ensure the highest standard of service. We have solutions for any door-related problems and make the doors look brand new. Also, all our workers have insurance. We will take responsibility if accidents happen. 
So, feel free to contact us if you are looking for door repairs Eastbourne. We are ready to provide our best services.