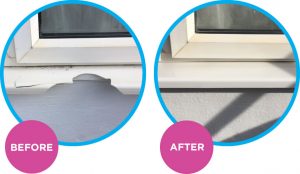 Windows seem like just another accessory, but they play a bigger role in the overall look of a house. UPVC windows are more used these days than traditional wooden windows.
UPVC stands for Unplasticized Poly Vinyl Chloride. It is extensively used for windows in the construction industry for its sustainability. UPVC windows can break now and then, requiring urgent repairs. And anyone looking for UPVC window repair in the Eastbourne area, we're here to help. 
Why You Need A Professional To Fix Your UPVC Windows
Although UPVC windows are very durable, they become brittle as time progresses. They are more prone to damage because of the installation process of these windows. The frame of the windows extends outwards. You or anyone can easily tussle against it.
It may not be a problem if the window is newly installed. But for old installations, the impact can easily break it or crack the window in places. This seemingly slight damage can turn out to be dangerous as such cracks can make sharp edges.
These small cracks may seem insignificant and easy DIY repair which is not the case in reality. It requires expert evaluation of the condition and careful repair planning. These things may feel so complex to you that you can think that replacing the entire window is a better alternative.
You might also think of DIY repair kits available online to save some money. They do work but to a limited extent. Such kits will never achieve the level of finish that a professional handyman can.
Our group of skilled workers can assess the condition of your UPVC window and give you the best solution. We can repair any types of cracks or breaks in the structural continuity of the UPVC and make it look like it was never damaged in the first place.
When repairing, matching the colour and finish of the surrounding structures is very important for purely aesthetic purposes. You won't find peace of mind if the colours are out of order even in the slightest. We care for that too.
The colours of the repair completely blend with the pre-existing structures. We do it so proficiently that no one will notice a repair took place there. In case of any type of damage in your UPVC window, you can trust us without any second thought.
Why Us?
We have long experience in this sector so we know what we are doing and what should be done. We work from the heart, not just for the sake of business. There is a reason we've been doing it for 18 years with quite the reputation.
If you are looking for UPVC window repairs in Eastbourne, you can contact us to do an estimation of the damage and advise you on the best solution at an affordable price. We will make the window brand new without costing you an arm and a leg.
We also offer a free no-obligation quote for any type of repair. Our experts will provide you with the best possible solution at a minimum cost in the area of Eastbourne. Also, if you have any queries regarding our terms of service, feel free to contact us.