If you are looking for UPVC window repairs in the Brighton area, look no further our expert staff are here to help.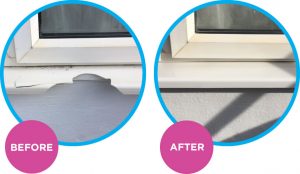 UPVC Windows keep our homes safe and warm, however, the uPVC material can become damaged over time, or become brittle as it ages, causing it to crack. This is a common problem as uPVC windows are prone to damage as they extend outwards from your walls, meaning that they are more exposed. If your UPVC window sills or the frames of your windows are damaged, they can become unsightly, and in fact dangerous as they can be very sharp or can impact the integrity of your window frame.
While you may initially think that you will need to replace the entire sill or frame, it is possible to repair most cracks, scratches and dents, leaving them looking as good as new. That's where we come in. We Restore Surfaces are surface repair experts. If you are looking for uPVC window repairs in Brighton, we can come and assess the damage, advising you on the best solution for your individual issue before giving you a free no-obligation affordable quote for our high-quality services.
Our team of specially trained professionals can repair and reprofile the area, filling in any cracks or holes, ensuring that the material we use is perfectly colour matched to your uPVC windows. We can also work to buff out any smaller scratches on the surface of the uPVC to ensure a smooth finish. We ensure that the repairs are expertly blended in with the rest of the window sill in order to provide a flawless finish, making a huge difference to the look of your home.
While there are some cheap DIY kits you can purchase that claim to do the same job, they may cost you more in the long run as you could damage your window frames beyond repair and it will take longer to rectify the situation. We Restore Surfaces are leaders in UPVC Window Repairs in Brighton and finish our work to the highest of standards, ensuring customer satisfaction. We treat your windows like they are part of our own homes.
So what are you waiting for? Contact us today for a free no-obligation quote to transform your tired or broken uPVC windows so that they look brand new. Here at We Restore Surfaces, our expert finishers can save you both time and money by repairing your window sills swiftly and for an affordable price, so contact us today for a free quotation or if you have any questions about the services that we provide – we can't wait to hear from you.