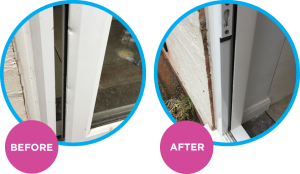 Doors are not only a means of protection; they have also become a part of the house aesthetics. Any type of problem with your door may not only affect its appearance, but will also impact the safety of your house if left untreated.
For the residents looking for door repairs in Brighton, we are always here as a name of trust for repairing your house doors and making them look new again. 
Common Damages Your Doors Probably Have
Doors are probably the most important parts yet the most neglected in any property. Whether it is our home or a commercial space, there are some common wears and tears that can be found on doors. Now, these may seem insignificant at first but they can add up to a bigger and costlier issue. 
Here we will be talking about some of these issues and why you need them check out pronto. 
Cracks
Doors are not something you install to your house and forget, especially if it's a wooden door. Temperature and humidity fluctuation causes the wood to expand and contract unevenly which produces hairline crack on the door surface.
These cracks are likely to increase if you don't repair them immediately. If you delay in repair, the cracks will have enough time to turn into splits and then larger crevices. This will hugely affect the structural integrity of the door.
We are equipped with all the required tools and skills to repair cracks on your door and restore it to its original condition.
Scratches 
Scratching is a very serious threat to the visuals of your door. Regardless of the door material, it is a very common incident. It can occur in solid wood doors, veneered doors or metal doors.
Scratches can be the result of accidental cause or handling without care. While the problem is the same, the solution can be variable depending on the door material. Sanding with fine and coarse sandpaper and then applying a new finish is the most conventional method. We are competent enough to handle any type of scratch on any type of door in your household.
Wear On Commercial Door 
Commercial doors have a few dissimilarities to regular household doors. In commercial buildings, powder-coated metal doors and panels are very common. Also, people roughly handle the doors in commercial buildings. This day-to-day rough usage peels the powder coating and exposes the metal surface.
In such cases, careful examination and planning is very important for accurate repairs. You may think applying a new coating will do the job, but there's a lot that goes into it. Also, matching the colour is crucial to maintain the aesthetics. Our expert crew of repairmen can repair your door and make it look brand-new.
Why Us?
You would want someone with ample experience in household repairs. We have over 18 years of experience in repairing doors across different sectors such as domestic, commercial buildings, hotel, motel and other sectors.
Our way of work meets the highest standard and all our workers are highly trained. We will make the damaged area look completely new. Plus, all of our workers have insurance so you won't have to take any responsibility in case of accidents.
If you are looking for door repairs in Brighton and looking for someone you can trust, don't hesitate to contact us right now to get a free quote.
Other Popular Locations for Door Repairs